New Jersey Beach Photographer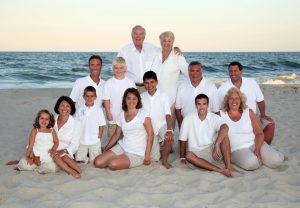 Rob Wilson is a New Jersey Beach Photographer. Although we take most of our portraits in the Spring Lake / Monmouth County area we do work up and down the Jersey Shore Coastline. We typically don't go below Exit 63 – Long Beach Island. The way we photograph extended families is what separates us from other beach portrait photographers. If you are planning on having an extended family portrait session than make sure that the photographer has a lot of examples of that. 
Most New Jersey Beach Photographers stand their subjects when posing large groups. A standing composition is typically not as pleasing to the eye like the example of the  portrait you see on this page. 
If you are looking for something special than we are the New Jersey Beach Portrait photographer for you.
Our goal is to create a family heirloom for you that will be passed down from generation to generation. We like to work with families that are looking for that special portrait to hang on their wall.  We are the photographers that can create something special enough for you to do that. 
For over twenty years Rob Wilson has been photographing both families and children all over New Jersey. Whether it's the beach, arboretum, or at peoples homes, we will find just the right spot for your family.  We understand that the beach isn't for everyone. As a result, we have photograph families in arboretums and parks all over NJ. 
Please browse our website and contact us if you feel we are a good match. We photograph families seven days a week and our beach portrait sessions are typically one hour before sunset. Other types of portraits have more flexibility as far as time. We will help you with what would be best for  your family.
Click HERE for our contact information.