Spring Lake Family Photographer
Spring Lake Family Photographer Rob Wilson understands that the beach isn't for everyone. Often families want to try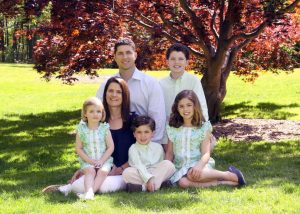 something different other than a beach portrait. In this case you have many options for your family. We can take your family portraits at the lake or even your yard. On the porch perhaps? Whether it's Deep Cut Gardens in Middletown or Erlanger Memorial Gardens at Monmouth College, we will come up with a plan that best suits the look you want. 
As you can see our family and children portrait styles range from relaxed posed portraits to more of a photojournalistic approach. During each session we feel that it's important to get a nice combination of both. The nice thing about relaxed posed portraits is that we can make everyone look their best. Often our families don't expect to like these type of portraits the most, however often they do. Over the years we have found that families don't necessarily mind posed portraits it's just that they don't want it to be stiff.
Timeless Family Portraits
Our focus is to create timeless family portraits and we are less concerned with the current trends. Family portraits should past the test of time. We family family portraits should be about the connection the subjects make with each other  more so than worry about props that distract from the portraits. The above images is a good example of the type of portraits that you can expect from us. It's important to us to show the closeness that families have for their children. We like to show how your family is the most important thing in the world for you. In a world where time flies it's nice to be able to capture a moment in time with family portrait photography. We hope you like what we  do and we would love to photograph your family.
Click HERE for our contact information.