Spring Lake Family Portrait Photographer
Rob Wilson is a Spring Lake Family Portrait Photographer.  Beach portraits is our most popular type of portrait photography.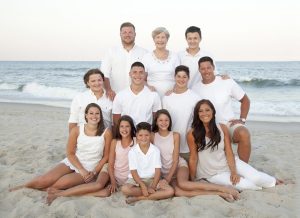 Whether it's portraits of your children, family, or extended family our goal is to create family heirlooms for each family that we work with. Our style of portrait photography ranges from relaxed posed portraits to a more of a candid approach. In both cases it's important to us to show the love and connection the families have for each other. Smiling pictures isn't enough unless there is a warm connection with everyone in the family portrait. 
We take a lot of pride with our family groupings. Often families initially think they don't want and posed type of portraits. However, we have found is what they don't want is portraits that look stiff. Photographers often worry about every little detail  to the point where great expressions and connections are missed. For us it's all about those little special moments that many photographers miss trying to make everything "perfect" when it's already perfect. 
Beach Portraits at Spring Lake
A lot of our families visit Spring Lake on the weekends. Often their parents have a home there and they come to visit every weekend. Oten all the siblings are together most weekends during the summer months. This makes it a perfect opportunity to have that extended family portrait taken for the grandparents. Afterall, what else could you get them that they would appreciate more than a family portrait on the beach of Spring Lake. Anytime we photography large groups we also do all the individual breakdowns. Each individual family will have their family portraits taken. Furthermore, families can have just their kids photographed, a portrait with their spouse and so on. We will help you make those decisions prior to the portrait session. We also start out with the most important group and work our way down. If their are young children involved we do everything to get them finished first before they "had enough". 
We look forward to hearing from you. Click HERE to contact us.